Why do you choose barista?  What is a barista? If you are thinking of the such queries then we have answers for you.
First and foremost, you want to work in a customer-facing role where you'll get the opportunity to make a positive difference to people's lives. More and more people are buying coffee and hot drinks and they are choosing their coffee company carefully. There comes the role of Barista & Coffee experts job skills.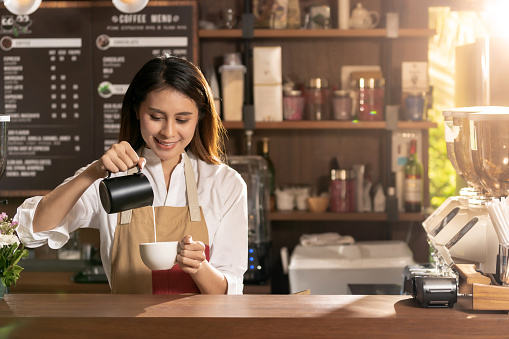 Barista
Coffee shops are always on the lookout for barista who have the valuable skills to succeed in the job.
Welcoming customers.
Answering questions about the menu.
Encouraging customers to buy coffee and brewing equipment.
Replenishing inventory.
Operating and maintaining equipment.
Following organizational health and safety requirements.
Great place and great brand to work with friendly environment at work place get to learn about the coffee culture promotion – attend our barista course to get international job experience.

A barista is someone who has a vast knowledge of different types of coffee and makes, decorate and serves drinks mainly in coffee machines coffee roasting and blends ,frothing milk and creating images on the coffee.
Team work ;A valuable skill for a barista skill for a barista job is to work as a an effective members of a team. Coffee shops get very busy ,so everyone needs to be aware of what their role is and stick to it, a barista must also be able to show flexibility in their approach in order to help other team members if necessary ,a coffee shop with clearly assigned roles will run smoothly even during busy time, when barista understand their tasks ,confusion disappears .ideally barista should be informed about their shift starts.
.
Communication
Effective communication is valuable skill for every job and being a barista is no exception barista , barista need to be able to communicate both verbally and in writing Barista need skill of communicating both calmly and clearly even under pressure, passing on wrong information will lead to a wrong order and a dissatisfied customer ,a barista also need to communicate the differences in coffee to customers .it's not unusual for customer to be in rush when ordering their coffee so a barista needs the ability to understand information without getting confused lastly the barista needs to communicate their availability to the scheduling manager. Ensuring that a coffee shop is adequately staffed depends on managers being aware of who is available and when. You will learn all at AIHS – Dehradun school.
Sales Ability
Up selling by using suggestive selling techniques, can sometimes determine whether a coffee shop turns over a profit selling is a valuable skill for barista jobs. Because they needs to convince customers to buy one more item .increasing sales should be a top priority for barista whether it's offering a complimentary product, like a muffin, or a chance to upsize .the customer should always be presented with a chance to spend more the up sell in a natural way this means that they need to be aware of which items go with different type of coffee managers should cover up selling techniques in training sessions to encourage barista to take every opportunity to increase sales.
Organization
When working as a barista organization skill will make the difference between whether employees carry out the job with ease and whether employees carry out the job with ease or serving customers in an efficient way.
International Brands Hiring Barista & Coffee Experts at High Salary packages. Contact Us Today!